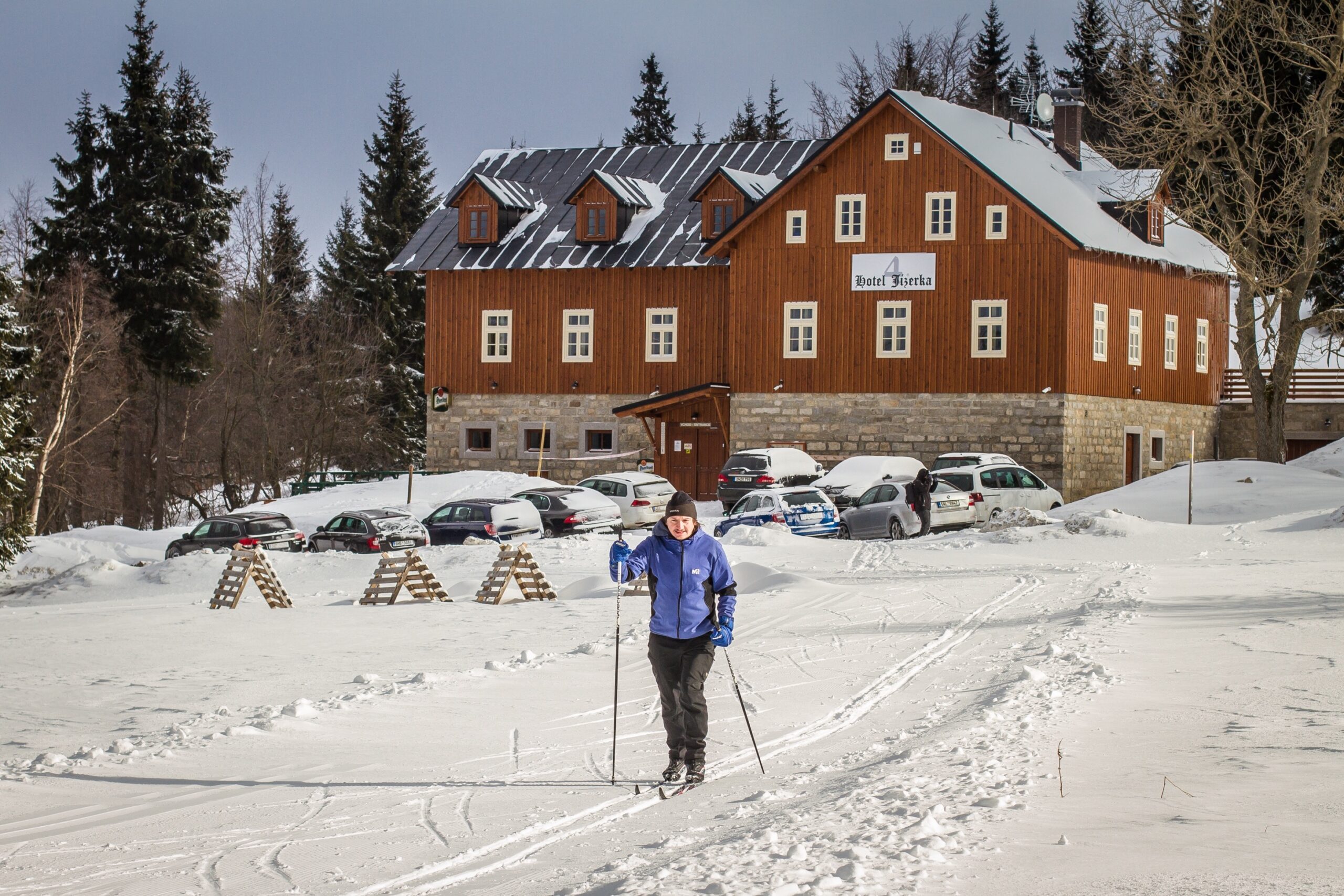 Cross-country skiing in Jizera mountains
Y
ou've managed to convince your partner to book a weekend stay at Hotel Jizerka 4. It wasn't that difficult to persuade them either, thanks to our outside wooden hot tub from which you can observe a thousand stars. Do you wish to spend a relaxing weekend with your lovely partner but need a bit of fun? Then try cross-country skiing!
You'll explore the beautiful nature of the Jizera mountains and have a lot of fun falling off the cross-country skis into piles of snow. It's not an easy sport, but if you're moderately strong and healthy, then you'll be okay.
Move your body into a winter wonderland
You will learn that the cross-country skiing trails in the Jizera Mountains have the longest history in the Czech Republic. It started in 1984 and is now managed by the Jizera O.P.S. When the weather stands on your side, you'll get to choose from 200 km machine groomed trails. You'll find out that marked trails often lead around winter kiosks, where you can drink much-needed mulled wine or just a cup of tea to gain the necessary strength. If there's a lot of snow you'll experience the most magical winter wonderland.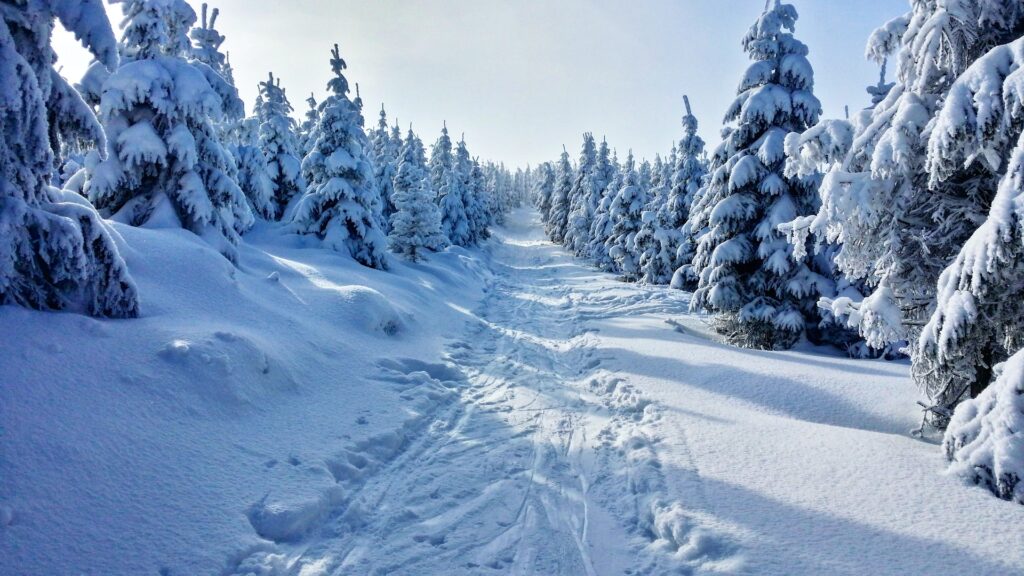 Cross-country skiing routes
Starting at

Hotel Jizerka 4

leading to

Polish village Orle

(9.3 km): Easy route without much elevation. Surprise your partner by taking them to a different country. You'll be cross-country skiing along the Jizera river and see the beautiful building of Orle Tourist Station. It's a place where time flows with its own rhythm. The route will take you 1 hour.
Starting at

Hotel Jizerka 4

to

Souš Reservoir

(11.2 km): A bit challenging route where elevation climbs up to 300 meters. This cross-country skiing route will take you to a viewpoint of the Souš reservoir and surrounding forests. Then you can continue to get up close to Souš Reservoir which is one of the most beautiful places in the Jizera mountains. The route will take you about 2h 15min.
Starting at

Hotel Jizerka 4

to

Smědava

(13.8 km): It'll be an easy to moderate route for you if you're occasionally cross-country skiing. You'll be skiing through beautiful nature surrounded by peat bogs. This route will take you about 2h 40mins.
Starting at

Smědava

to

Bedřichov

(27.3 km): Difficult route if you go both ways. First, you will go around Jizera Mountain, pass the Knajpa kiosk and get to the Na Čihadle Nature Reserve. In Kristiánov, you will reach the cemetery where you can also visit the Memorial of Glassmaking in the Jizera Mountains. Then you'll continue skiing to Nová Louka and the stadium in Bedřichov. This route will take you about 5h 15min.
Our tip: Check this page where they regularly update the status of cross-country skiing trails in Jizerka mountains.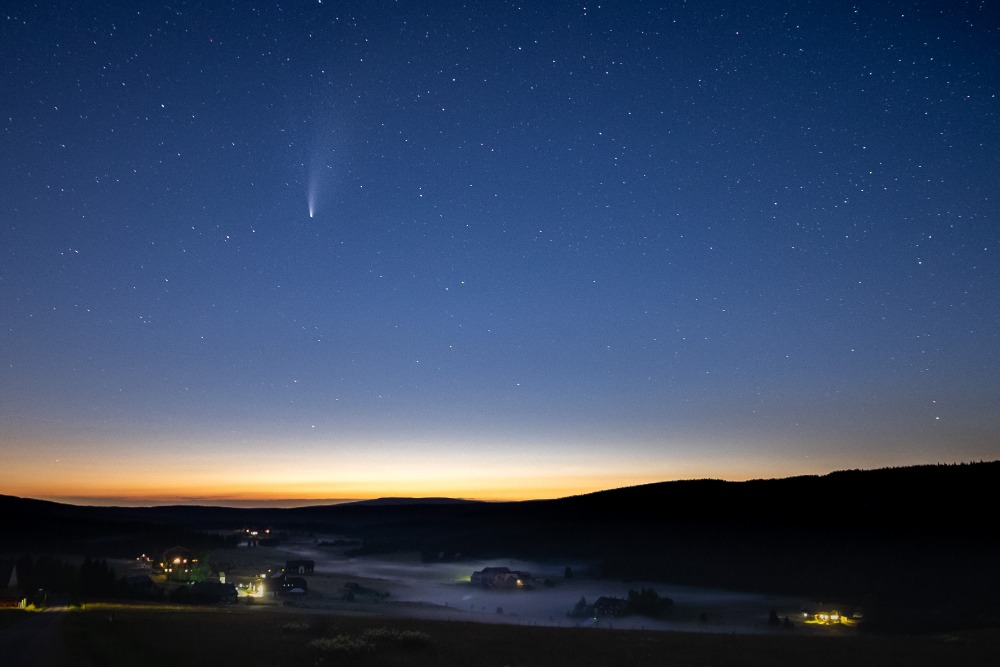 Valuable time spent together
We wish you have the best time in the Jizerka mountains while being active during the day and relaxing at our hotel in the evening. After doing cross-country skiing your body will need recharging before taking on next-day adventures. You'll appreciate our wellness that includes a whirlpool, sauna, and an outdoor wooden hot tub.

Our village is very unique due to its sky being one of the darkest in the country. Thanks to the light smog being super low you can see up to 500% more stars than in the city.